About the Visualization Core Laboratory in Radiology
The Visualization Core Lab in Radiology is directed by Lydia Gregg, MA, CMI, FAMI, Assistant Professor in the Johns Hopkins University School of Medicine. Lydia has over thirteen years of experience in creating didactic medical and scientific visualizations. Follow this link to view her full faculty profile.
We bring form and function to medical and biological concepts for use in research and for dissemination to a wide range of audiences. The Visualization Core Lab is primarily dedicating to helping radiologists visualize their data didactically. The Lab also focuses on the creation of 2D medical visualizations, 2D and 3D animations, and models, such as phantoms and flow models for subsequent 3D printing. This includes the creation of STL (stereolithography, 3D-printable) files from segmented regions of interest. Contact us for an estimate regarding your project.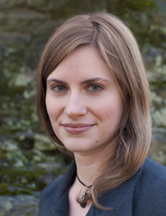 Assistant Professor &
Certified Medical Illustrator
Director, Visualization Core Laboratory